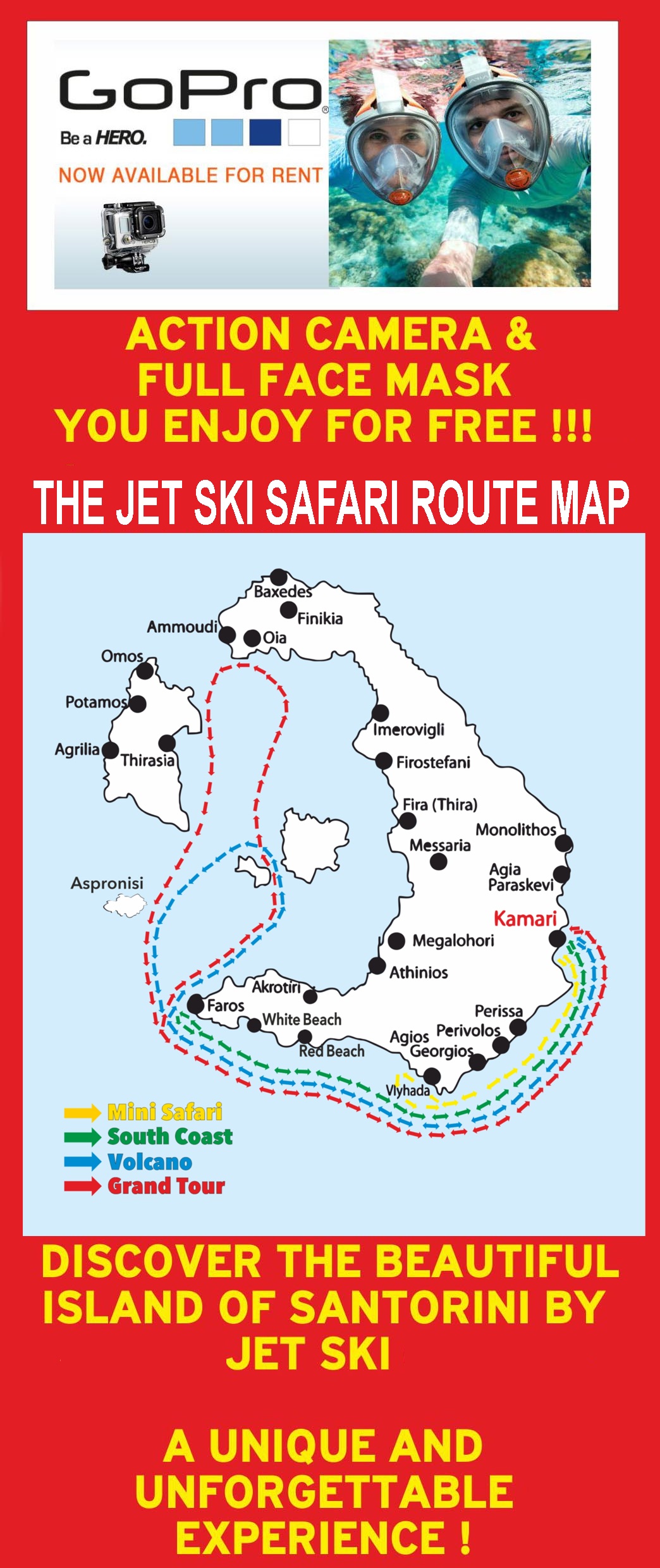 It doesn't get better than this… Let us introduce you the most unique, specialized and exciting experience on Santorini! Hire and Ride your own jet ski and feel the freedom and extreme exhilaration that Jet Ski Safari has to offer as you explore the wild blue.
Your instructor will brief you on safety instructions and how to use the Jet Skis. Once you 're done with the theory you will pass into practice !
Your guide leads you first to the Caves of Kamara rocks where you will stop for great pictures with our professional GoPro cameras in this fascinating background and you' ll have the opportunity to swim and snorkel off the white beach which is reachable only by boat, so enjoy the sight and capture it.
You will get to see different beaches, views, shapes and colours of rock formations, you will be able to swim at Hot Springs, snorkel along the cliffs of the Caldera and enjoy a great sunset view on Jet Ski.
GET READY FOR THE RIDE
OF YOUR LIFE !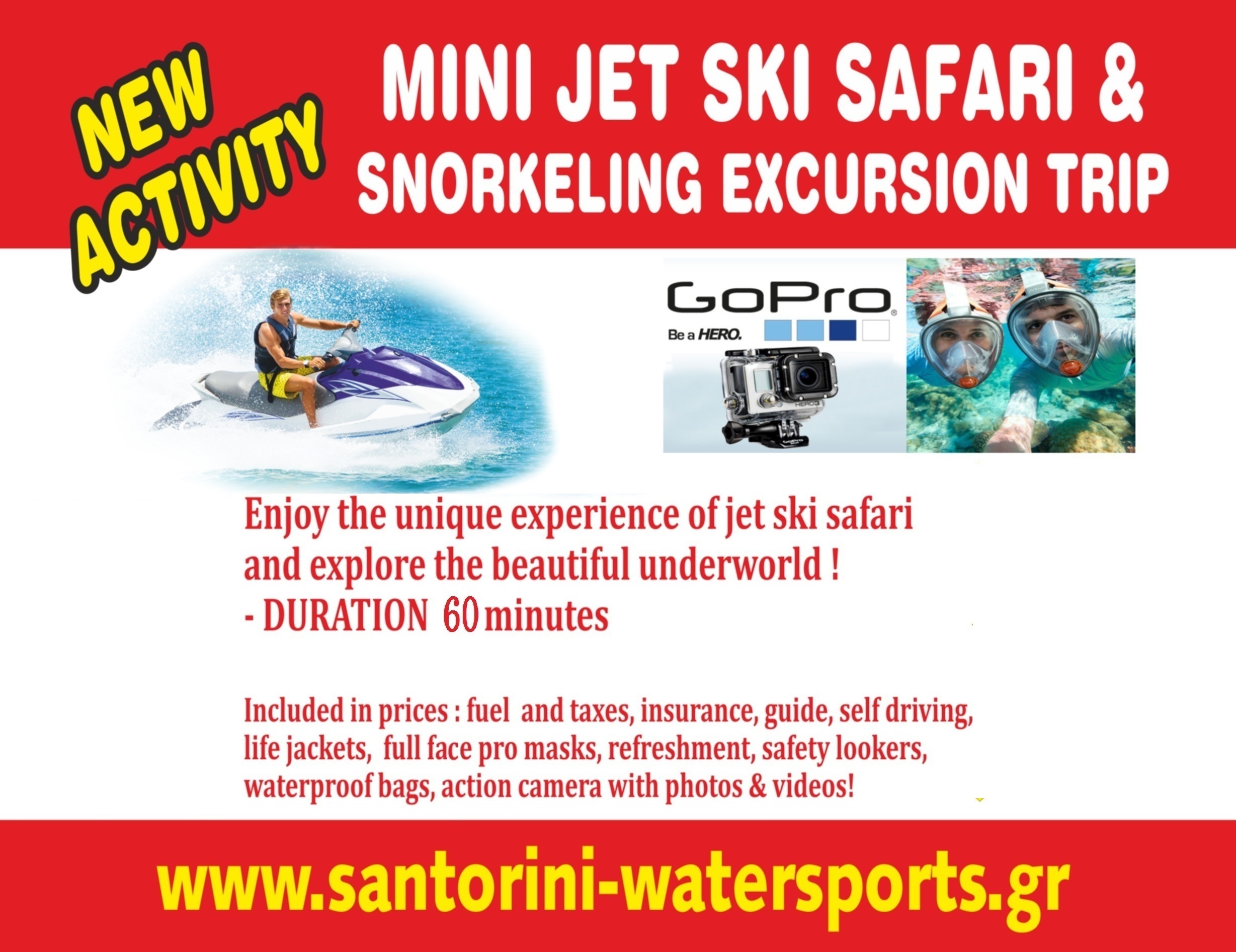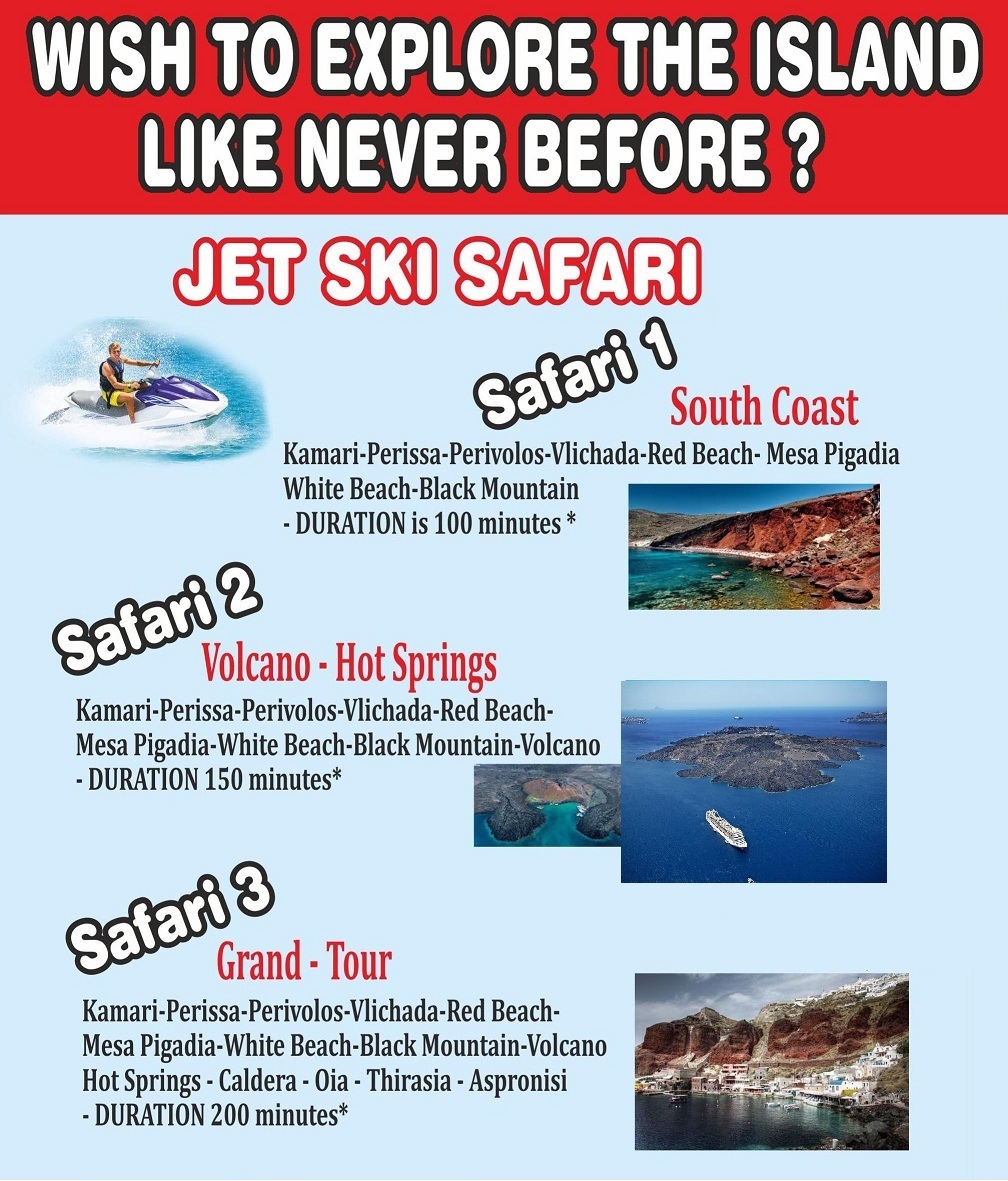 INCLUDED IN ALL PRICES:
– Fuel and taxes
– Insurance
– Life Jackets
– Safety Lockers
– Shower
– Free Parking
– Eye protect glasses
⚠️ -Mini Safari Starts at 09:30 during June – October
– South Cost Safari Starts at 17:00pm on May and at 17:30pm on June – October
⚠️ You Can book the activity by paying only the deposit amount (20%). The remaining amount is payable at the day of the activity
⚠️ IMPORTANT NOTICE
– The Jet Ski Driver must be at least 18years old !
– Maximum total weight of riders 180Kg.
– Basic swimming skills required!
⚠️ IMPORTANT NOTICE
In the event of it being unsafe to carry out an activity, we reserves the right to suspend or cancel at any time. This may be due to adverse weather conditions and/or equipment failure. In such cases any advanced payment will be fully refunded.
✖️ CANCELLATION POLICY
In the event of a cancellation any advanced payment will be held
ℹ️ INFO
All Tours are organized either in the morning or late in the afternoon, by appointment only, and at least 24 hours in advance.
VIDEOS
FREQUENTLY ASKED QUESTIONS (F.A.Q.)
● Mini Jet Safari + Snorkeling
– 230€
● South Coast Τour
– 350€
All the prices are per Jet Ski, not per person and each Jet Ski can hold up to two (2) persons.
● Mini Jet Safari + Snorkeling :
60 minutes (40min driving + 20min snorkeling)
● South Coast Τour :
100 minutes (80min driving + 20min snorkeling)
● Volcano – Hot Springs Tour :
150 minutes (130min driving + 20min snorkeling)
● Ground Tour
200 minutes (170min driving + 30min snorkeling)
You can book by calling us
The tours starts in the morning or late in the afternoon, depending on the weather conditions and the availability. More options – under request.
Children and adult price is the same.
– Beach Towel
– Sancream
– Swimwear
– Sunglasses
No experience required at all. We will train you and show you how to control the jet ski.
Of course but make sure it's waterproof. It is your responsibility to keep it safe.
You will be able to swim at the Hot Springs, the Famous mud baths, witch were formed as result of volcanic eruptions.
The water temperature ranges from 30 to 35 degrees celsius, as it mixes continuously with the normal sea currents.
Click on Here to view our contact information and our exact location on the map.
To drive the Jet Ski you need to be 18years old. Children under this age are able to come on the Safari as a passenger.
You don't need to speak Fluent English, because we are explaining all the safety instructions on a watermarked board.
● Self-driving
● Fuel
● Taxes an insurance
● Guide boat with experienced driver
● Info Meeting
● Life Jackets and wetsuits
● Online cameras and safe place with key storage
● Refreshments
● Parking for your car
● Shower
● Changing cabins
● Professional Eye Goggles
● Waterproof bags for your phone + personal stuff
● Latest Go Pro Waterproof cameras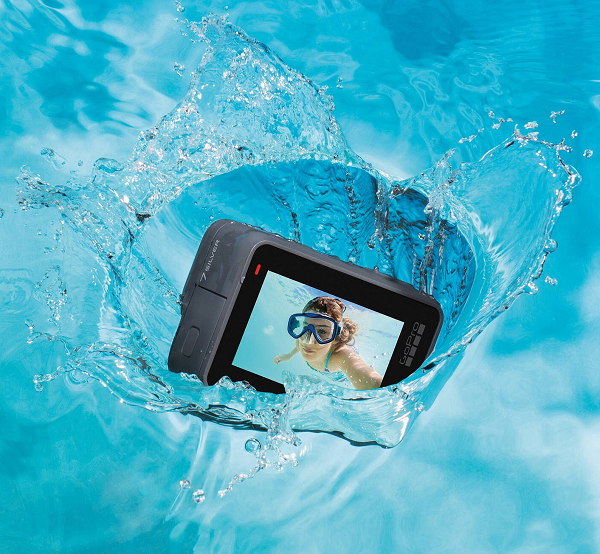 ● Pro Full Face Snorkeling Masks